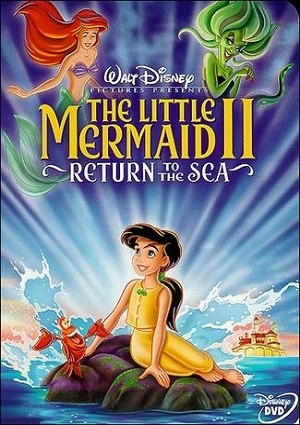 The Little Mermaid 2: Return to the Sea (2000)
The story begins shortly after Ariel was transformed into human by will of his father, King Triton, thus the king made her daughter happy. Now Ariel married with King Eric and had a daughter: little Melody. During the celebration in which Ariel and her little daughter would return to the sea, King Triton reaches the surface accompanied by soldiers and gives his granddaughter a necklace.

But then appears Morgana (the evil sister Ursula), which traps the girl and blackmails the King to kill her if you do not give the trident, but something goes wrong and Morgana disappears swearing that would avenge Triton family and especially his beloved granddaughter. This causes Ariel, for fear of what may happen to her daughter, decides to return to his father's collar Melody, in this way the child will never know that there are sirens or Atlantic.

Twelve years later, Princess Melody, always watched by Sebastian the crab, every day escapes the palace, and swimming seeks to enter the ocean, which she loves. She was always looking for snails and their twelfth birthday she finds the necklace that his grandfather had given her the day of his birth, at that time, a feeling of doubt in Melody breaks, and decides to run away from home.